Noted Events
Tickets for these events can be obtained online using the links below or by telephone (0116 2591966). Enquiries for music events can also be made by email music@leicestergrammar.org.uk
We welcome group bookings, however, if you would like to bring a group along to any of our concerts, please get in touch with our Director of Music, John Barker - barkerj@leicestergrammar.org.uk to discuss your requirements.
Tickets for under 18s are free. However, if you would like to make a donation to support our Music in the Community Programme, please select the £3, £5 or £10 options on Ticketsource or let the Music Administrator know at the time of booking.
---
Our Music Concert Programme for 2018-2019 brochure is available as an attachment below: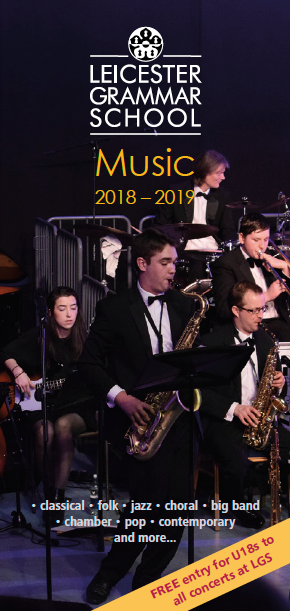 Click here to download the brochure
---
Saturday 15 September
Bardi Symphony Orchestra Concert with LGS Soloists



St Nicholas Hall, Leicester Grammar School 7.30pm
Tickets £10. Free for under 18s.
Our much valued partnership with this fine orchestra continues with a concert of shorter concerto works and large-scale symphonic repertoire. The programme will feature LGS musicians and soloists (Moritz Wagner-Tsukamoto, Ethan Leech, Rosalind Rashid, Saurav Thakrar, Vladimir Turapov and new Deputy Director of Music, Amy McPherson), and will include Mendelsohn's Italian Symphony and a Sound of Music Medley.
---
Friday 5 October
Harborough Collective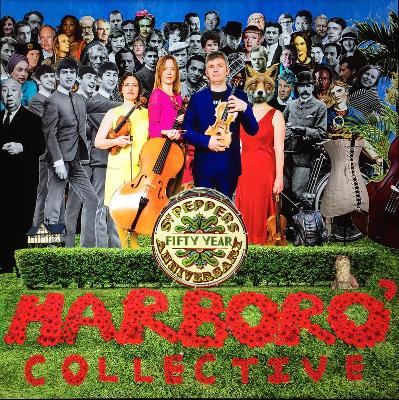 Recital Room, Leicester Grammar School 7.30pm
Tickets £15. Free for under 18s.
The Harborough Collective, led by David Le Page, will bring a stunning programme of English works, culminating with a celebration of The Beatles' Sgt Pepper's Lonely Hearts Club Band and will feature Director of Music John Barker on the saxophone.
David Le Page, who lives in Market Harborough, is one of the UK's most sought-after violinists and has established the Harborough Collective's Concert Series as an indispensable platform for live music in Leicestershire. The ensemble draws on the talents of the country's finest musicians who perform as soloists, chamber musicians and orchestral players all over the world.
---
Tickets may be purchased online (card payment, small booking fee applies) or via our school Music Office (payment by cheque or cash). Please make cheques payable to Leicester Grammar School and complete a separate cheque for each concert that you wish to attend.
In the meantime, if you have any queries please contact the Music Department Office on 0116 259 1966 or bloomfieldm@leicestergrammar.org.uk
---