Images of Peace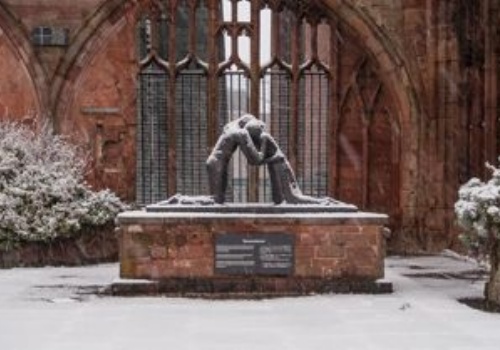 We have looked this week at some powerful images in assemblies – all of which we can interpret in our own ways. That is, of course, the wonder of art, which, like music, drama and literature, allows us to discover meaning which is relevant to our own lives. This creative and sometimes 'spiritual' experience forms an important and enriching part of our pupils' education – hence our commitment to these subjects at Leicester Grammar, at a time when they have become increasingly squeezed in many other schools.
We considered: the sculpture at the centre of the British Normandy Memorial overlooking Gold Beach - 'Comrades for ever' - which does anything but glamourise war; and the Cross of Nails and statue of Reconciliation from Coventry Cathedral, with its commitment to peace in a world riven by conflict.
We then reflected on their relevance for each of us today and on the importance:
of being at peace with ourselves and within ourselves – happy in 'our own skins' – as we seek peace in the face of the anxieties and pressures which afflict us.
of being at peace with each other. Unkindness and bullying should have no place in our school community. We should be peacemakers when we see others falling out – and certainly never try to stir things up.
of being reconciled when we do disagree, learning to disagree with grace and to make up when we do fall out.
of being a beacon of peace and generous service as a school in our local community, in the communities where we live and in the wider world – e.g. in charity-fundraising, in community service and in support of our sister school in Tanzania.

I wish you a peaceful weekend and sunnier days!


John Watson
Headmaster and Chief Executive