It's OK not to be OK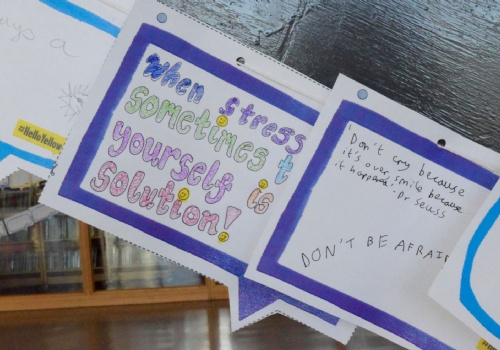 Yesterday was World Mental Health Day. Pupils and staff were asked to contribute their thoughts on what they did when they felt down or stressed and to highlight what they were grateful for. These were then strung together around the main foyer to form a colourful, practical and very positive display.
Probably the most popular stress-buster for staff was going for a walk (preferably with a doggy-friend!). The pupils recognised the importance of smiles, e.g. "It makes me happy when people smile at me and talk to me in the corridors"; "Keep the smile going." A couple of comments acknowledged that people could be hurting on the inside even if they were smiling and others spoke about how they learned most from life's challenges. A few said: "It's OK not to be OK."
None of us can feel on top of the world all the time, and it's normal for our sense of mental well-being to fluctuate. The technicolour ideal of constantly happy, Colgate-smiling, ever-beautiful people so prevalent in advertising is not our everyday reality. Some of us are more predisposed to optimism and positivity than others but can therefore find it hard to admit when we have the blues. How many times have you automatically answered "Fine, thank you", when actually you're feeling under the weather?!
My hope is that adolescence for our young people will have many more 'ups' than 'downs' and that they will be able to cherish very happy memories of their school days. We should emphasise the importance of positive mental health, help them to build resilience and to pick themselves up when they fall. However, if the 'downs' begin to outnumber the 'ups', it's really important that they seek support and that we then offer that support before the situation deteriorates. The most important message from pupils was: "Talk." So, we should aim to keep those trusting and loving channels of communication open, to let our children know that it's OK to feel down from time to time, and to be sensitive to any significant changes in mood or habit. Help is always at hand, and timely help for anxiety can make a big difference.
I have told all our pupils to ensure they take a break and have a rest next week. I hope that you too will be able to spare and share time with family.
Best wishes
John Watson

Headmaster and Principal