Marvellous!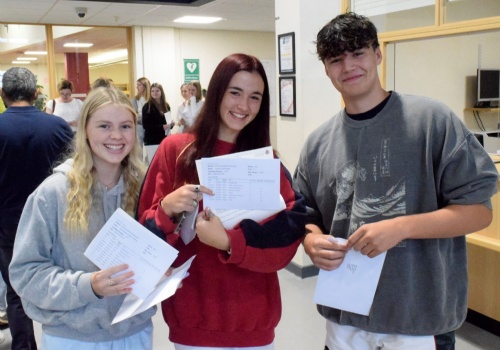 Following last week's outstanding A-level results (72% A*/A), our GCSE cohort has also performed exceptionally well, despite the many challenges of the pandemic.
81% of all grades were at 7 – 9 (the old A*/A equivalent). Nine pupils from a cohort of 119 were rewarded with the coveted grade '9' in all their subjects, with Meghna and Vidhi celebrating that top grade in 12 subjects, including Italian and Further Maths. Jennifer, Shreevani, Ali, Gargi, Eesha, Harriesh and Kirsten were hot on their heels, with 11 top grades apiece, whilst Isabela also achieved a clean sweep of 9s.
Below: Jennifer and Vidhi celebrate straight 9s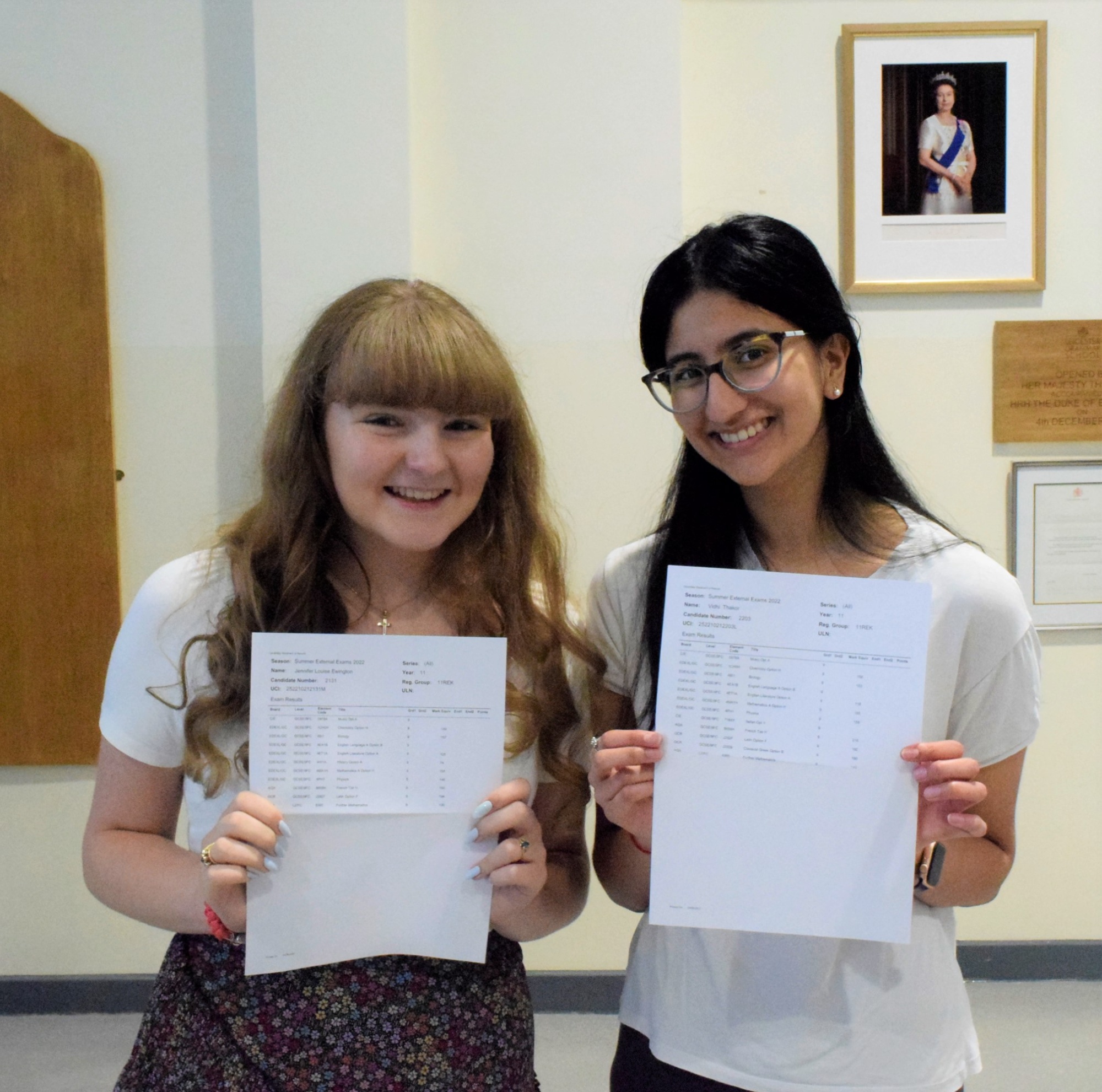 A very impressive 47 pupils gained grades 8 or 9 (the old A* equivalent) in at least nine subjects, with an overall pass rate for the cohort of 99.7%. 'Rarer' subjects such as Classical Greek, Ceramics and German continue to thrive at Leicester Grammar School, ensuring that our pupils enjoy a wide choice of academic courses. In addition to their studies, they have engaged enthusiastically in music, sport, drama and other activities beyond the classroom, maintaining a healthy balance in their busy lives, and keen to support others through charity-fundraising and community service.
Below: Radfar, Luthushman, Ali and Zachary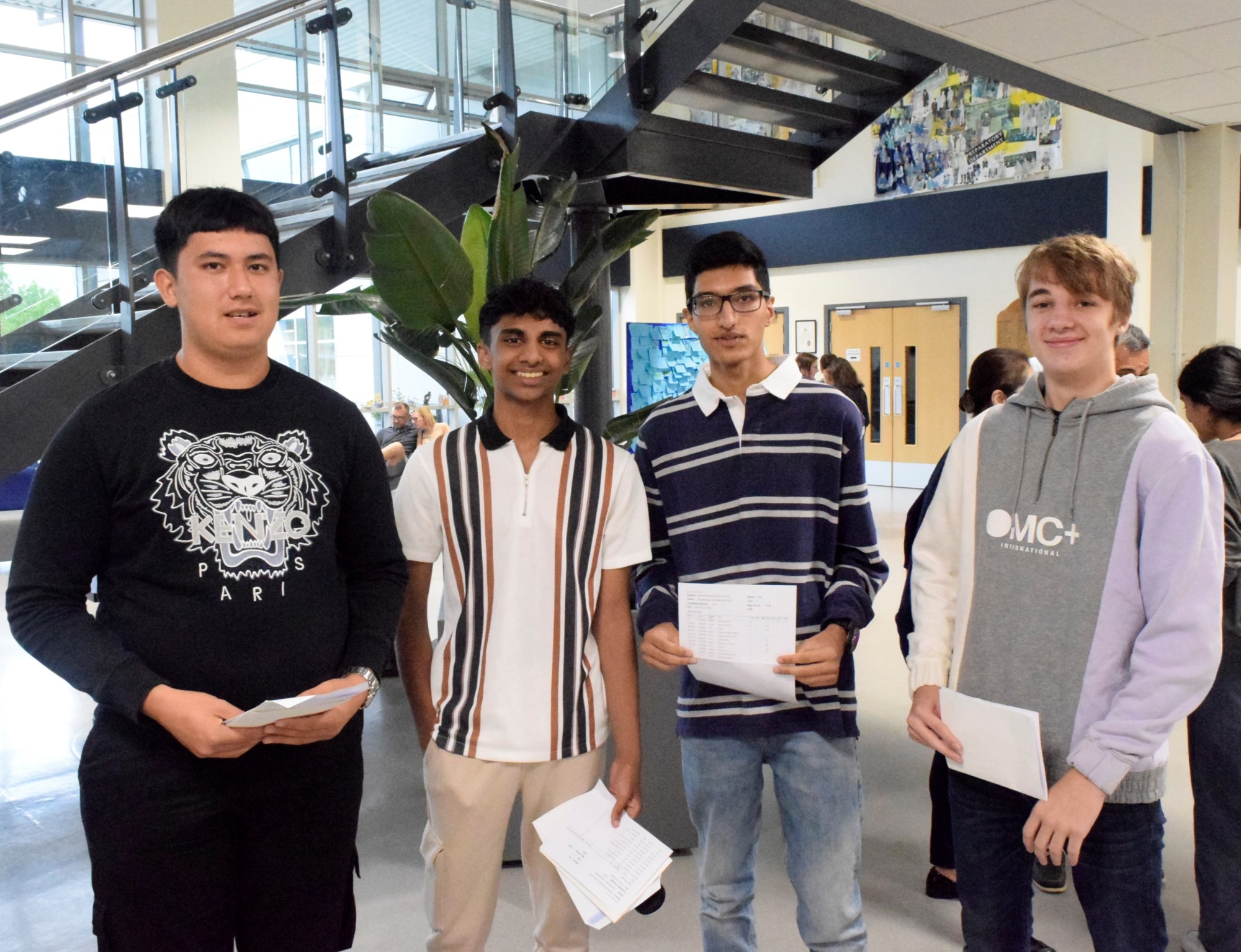 Headmaster John Watson commented:
"Our pupils can all be tremendously proud of what they have achieved, working closely with their teachers and supported by their parents, who have faced their own challenges over the last two years. They have displayed remarkable maturity, good humour and dedication, and can now look forward confidently to the Sixth Form, benefiting from the many opportunities of our exciting Aspire programme."
The LGS Sixth Form is a very happy and ambitious part of our community, and Leicester Grammar's reputation for high academic standards and attentive pastoral care has this year attracted many newcomers. There are still places available for certain A level subjects, and interested prospective students are advised to consult the website and contact Mrs Natalie Hunt, Head of Marketing and Admissions, without delay (admissions@leicestergrammar.org.uk)
Below: Grace celebrates with her parents