Marvellous!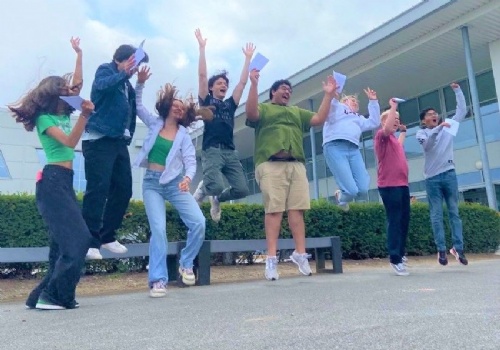 We have many marvellous reasons to celebrate with our A level students today! Not only have they achieved quite outstanding results in a year when standards have returned to pre-pandemic levels, but they also leave us with the personal skills, qualities and determination to make a very positive difference to our world.
This was a year group who sat no GCSE examinations in 2021 and whose education was significantly disrupted. Yet despite the concerns aired in the media and a drop to 26.5% A*/A nationally, their enthusiasm and resilience have led to the award of 69.1% of all grades at A*/A, and 90% at A*-B.
A remarkable 18 students were rewarded with 3 or more A* grades, and six students gained 4 A* grades. Three trumped this with the addition of an A* for their Extended Project Qualification: Shruti Chakraborty and Milly Kotecha will go on to study Law and Classics respectively and are among nine students who have successfully met their Cambridge or Oxford offers; Arjun Kotecha can add an Associate of the Royal Schools of Music diploma in cello to his accolades and will proceed to Imperial College London for a degree in Physics.
We forever encourage our students to maintain a healthy balance in their lives, and they do not only excel in their studies. Indeed, they have been keen to embrace the many special opportunities that LGS has to offer in their Sixth Form years. Leicestershire and Loughborough Lightning cricketer Lucy Weston (also a very talented musician) was rewarded with 3 A* grades and will study Philosophy and Psychology at the University of Edinburgh, and GB international triathlete Thomas Dixon (AAB) will go to Cardiff to study Engineering. Fergus Gilligan, captain of both 1st XV rugby and 1st XI cricket teams sees his 3 A* grades take him to Leeds for International Relations. Lucas Hoffman, Ali Kamel and Aditya Mathur not only share 11 A*/A grades between them, but also recently came runners-up in the international Earth Prize 2023 from 1,150 schools in 116 countries. Ali has chosen to go to Illinois for his university education. These are but a few of many success stories, as virtually all our students have achieved the results which enable them to proceed confidently to the universities of their choice.
Headmaster John Watson said:
We are immensely proud of our young people who have made such a positive impact as excellent and caring role models both within and beyond our school community. They richly deserve these marvellous results and have very bright futures, both at university and in their lives. Our teachers and support staff also deserve great credit, as the inspiring and caring relationships they form with students – whom they know as individuals in small teaching groups - lie at the heart of this successful and happy narrative. We send our very best wishes to all candidates nationally as they plan their next steps.
Our Sixth Form has unsurprisingly proved very popular for September 2023 entry, but there may still be places available for certain subjects. Any interested potential students should consult our Admissions page on the website (https://www.lgs-senior.org.uk/sixth-form) or contact the school without delay.