Year 10 German Exchange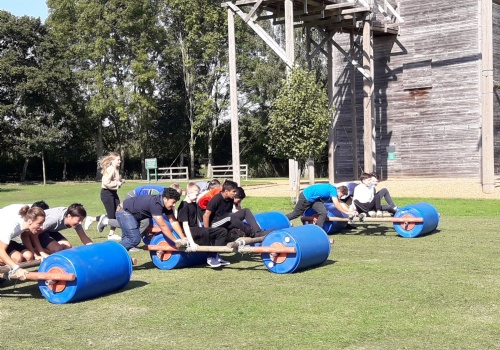 Now an established and successful link involving Leicester Grammar School over the last seven years, and Solihull School, the German exchange programme with our partner school, the Elisabethenschule in Hofheim, near Frankfurt, has been running successfully since 1998. The first seven years of our involvement here at LGS have been a huge success and we are delighted to be embarking on this year's exchange, welcoming our German partners to Leicester during the week 19th – 26th September.
The Elisabethenschule is an independent secondary school for boys and girls aged 10-16 with an excellent reputation locally. During their stay in Leicester, the pupils, together with their partners, have been undertaking an interesting and diverse programme of activities, consisting of a balance of time spent in school attending lessons with partners and various trips to local attractions, including a wonderful day overcoming any initial shyness by making and racing land buggies together in the sunshine at Beaumanor Hall. Other visits include a day in London, a town trail in Stamford, and a trip to the BBC in Birmingham where pupils have the opportunity to record their own radio play, alongside individual trips undertaken with partners and host families in the evenings and at the weekend.
The exchange itself is an invaluable opportunity for pupils from both countries to put their growing language skills into practice and to gain an improved understanding of the language and culture of England and Germany respectively. During both legs of the programme, pupils spend school days participating in cultural trips in the region with their classmates before returning home with their exchange partner each evening and at the weekend to experience life within an English/German family. This can often seem a little daunting at first to some; however, experience has shown that the benefits in terms of self-confidence and independence far exceed any earlier trepidation and can contribute greatly to a young person's growth and development. Additionally, visiting a foreign country and immersing oneself in its language and culture is without doubt the most crucial and meaningful complement to studying a modern foreign language; without it, language can never truly progress beyond the classroom.
It is for this reason that we are proud to uphold the tradition of the exchange trip whilst many schools have abandoned it in favour of possibly less challenging options. Many of our parents remember their own exchange trips with great fondness and such trips have often led to lifelong friendships and connections. Having made their initial contact over the summer and then got to know partners better this week during their visit to Leicester, all of our LGS participants are now awaiting our return visit to Hofheim in March 2020 with eager anticipation.