2019 Arkwright Scholar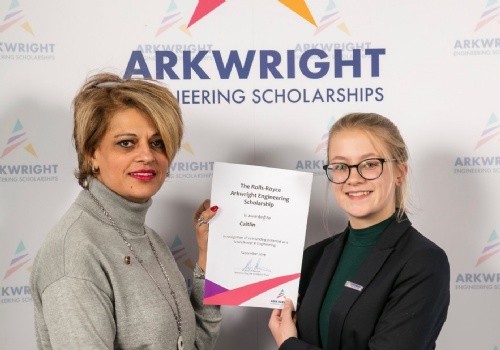 We are delighted that our Year 12 student, Caitlin, was amongst around 400 of the country's most talented students who have been honoured at ceremonies in London and Edinburgh as they received scholarships from one of the UK's leading engineering programmes.
Students hand-picked from across England, Scotland, Wales and Northern Ireland have achieved a coveted Arkwright Engineering Scholarship award. A total of 415 scholars will receive financial and mentoring support through their A-Levels and Scottish Advanced Higher qualifications, as part of a drive to inspire future leaders in engineering. Caitlin's sponsor is Rolls Royce.
The Arkwright Engineering Scholarships is a programme from national STEM education charity, the Smallpeice Trust, which has been providing scholarships to students since 1991. Since its inception, more than 5,700 young people have passed through the scholarship programme, including award-winning BBC presenter Steph McGovern, who forged a career at Black & Decker before moving into business journalism.
This year more than 1,370 students aged between 15 and 16 years old applied, following nominations from their schools. Scholarships were awarded to 126 female students, representing 30.4% of all 2019 Arkwright scholars. The successful applicants, who have all undertaken a rigorous, year-long application process, were invited to receive their accolade at ceremonies held at the Institute of Engineering and Technology in London and the International Conference Centre in Edinburgh. T
his year, the award ceremonies were used to highlight the achievements of women in engineering, with former female Arkwright alumni now working with UK organisations and Arkwright principal sponsors, asked to speak to the assembled scholars on how their path into engineering has provided them with opportunities to excel. Gemma Lonsdale from the RAF, Sallyanne Lewis from BurroHappold Engineering, Poonam Parmar from Arm Limited and Oluchi Ukawuike from BAM Nuttall were among those to provide the assembled scholars with insight into their own journey into engineering-focused careers.