Tigers Academy Graduation for Jack & Mat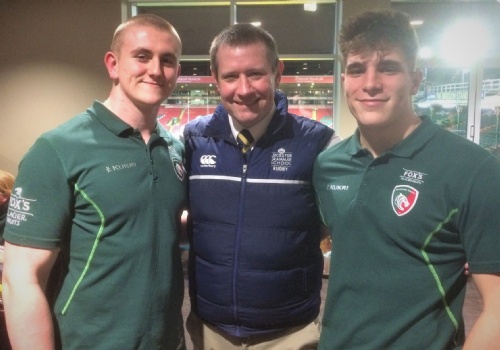 Leicester Tigers' Academy graduates enjoyed being introduced to the Welford Road faithful and a Presentation ceremony on Saturday 29th February. At half time, the players were awarded their playing shirts by Club Captain Tom Youngs, and following the fixture, where Tigers secured a win against Worcester Warriors, Academy Manger Dave Wilks and Head Coach Matt Smith spoke about their journey this season, which culminated in a third straight Academy title.
Dave Wilks said: "We are here to reward the players, but a lot of other people behind the scenes put a lot of effort and resource into what they do.
"Everyone from drivers, house-masters, teachers, sports coaches at schools, house parents, grandparents and, of course, parents are a massive part of the programme. We couldn't do it without you.
"There are also people in the club who support the academy to drive the programme forward. The support is phenomenal from the management team and the academy vice-presidents.
"The last group who do not get much thanks are the staff. Their enthusiasm and energy are remarkable.
"The players have been incredible and a real pleasure to work with. You've done yourselves proud."
The LGS students who graduated certainly have a great deal to be proud of. Director of Rugby Mr Reeves and Head Coach Mr Ellis said:
"Both Mat and Jack have not only helped establish, but carried forward, the values of LGS Rugby this year. Alongside Bradley Crane, Mat has lead the 1st XV by example and has put in countless numbers of top-level performances. Jack has made fantastic progress this year in particular, and has been a cornerstone of a very strong and dynamic pack. We are obviously proud of their achievements at Tigers, but also of their contributions to the most successful 1st XV season in the school's history."
Jack was also awarded the Tiger of the Year Award from Matt Smith who said: "This award is for the person who epitomises the behaviours we have demanded – tough, smart, team first and hard work. And Jack has those characteristics by the bucketload."
Photo: Jack and Mat with Director of Rugby Mr Reeves at the Graduation in the Clubhouse Lounge following the presentations.