Junior Quiz Champions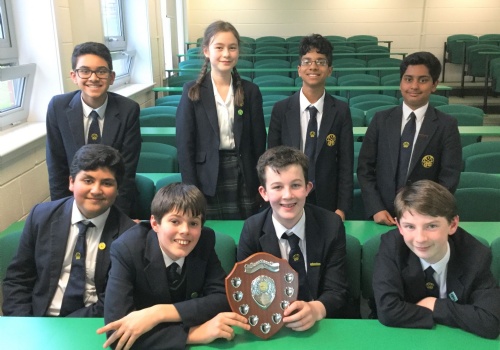 We were delighted to host the regional Junior Quiz Challenge yesterday. Teams from Gartree High School, Manor High School, Dixie Grammar School, Loughborough Grammar School, Stamford School and, of course, Leicester Grammar School competed in teams of four pupils.
We had A & B Quiz teams competing made up of Year 8 pupils Hamad, Joey (A Team Captain), William, Boris, Lily (B Team Captain), Vivek, Nikhil and Year 7 Arvind. Both teams did us proud!
Our LGS A team beat Gartree B 330-130, then beat (the holders) Loughborough in a close semi-final 360-290 and won the Final beating Gartree A 470-240 so they are now the East Midlands (south) champions.
Our LGS B team lost to Loughborough 140-600, then beat Gartree B 280-120 in the Plate Semi-final, but lost to Manor 210-300 in the Plate Final.
Everyone enjoyed the afternoon and Boris was a particular star for the A team!!