U15 Win County Cup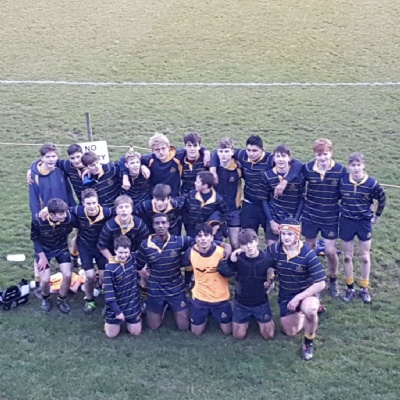 The U15's looked to finish off the rugby season by securing the County Cup. The side were well prepared and highly motivated for the clash with Hinckley Academy. Motivation came in the form of needing to right the wrongs of last season's defeat in the final.
The game started well and the contest up front was significant against a hugely physical Hinckley team. The opening exchanges were dominated by the LGS forwards with the back row of England, Holmes and Stone leading the charge. After a period of pressure in the Hinckley 22, the forwards secured a line out and drove over. This was followed by a superb try straight off the kick off. Several players offloaded superbly to put Max Tompkins away on the left wing. A further try was added giving LGS a 15-0 lead.
Hinckley then came bulldozing back into the game and scored twice before half time to take the score to 15-12 at the break. The opposition came out for the second half with a physical intent that was repelled by some stout defence led by Jai Kumar, Alastair Milner and George Impey. LGS scored next with Hinckley replying soon after. 22-17. Too close for comfort.
The game came down to the final 5 minutes with LGS scoring another superb team try that was finished off by Dan Heaton on the right wing. This finally killed the contest and George Impey scored a well deserved try with the final play of the game. Final score 32-17.
Honourable mentions to Oscar Holmes and Oscar Stone who has performed superbly all season. A great result for the side which put to bed the defeat last year and capped off a season in which the team has developed superbly.