OL Ben White - international debut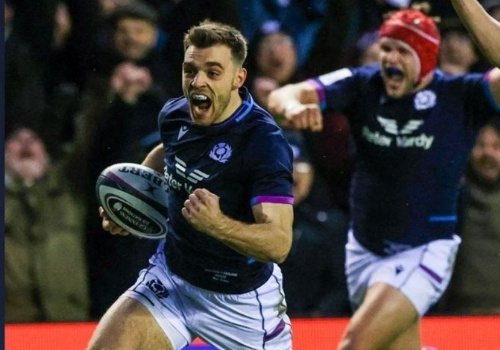 When Ben White finished off a cracking move to score a first half try for Scotland against England in the Six Nations opener last Saturday, most of the country was disappointed.
And, while of course, they were cheering on England during the game, Leicester Grammar School's wider community could not help but be happy for former pupil Ben on his full international debut.
The former England under-20 scrum-half has recently switched allegiances to the country of his late grandfather Jim White - and could not have hoped for a better introduction to life in dark blue and, indeed, life in the famous tournament.
He came onto the field in the first half to replace Ali Price who was having an HIA [head injury assessment] and, in that 10 minutes, scored the aforementioned try.
By half-time the 23-year-old was back in the BT Murrayfield stand again on a cold Edinburgh evening, but he returned later in the match.
Scotland were leading 10-6 at the interval, but were trailing 17-10 with 15 minutes to go until things turned around.
England hooker Luke Cowan-Dickie was yellow carded and Scotland were awarded a penalty try to tie the scores before a penalty by stand-off Finn Russell won the Calcutta Cup 20-17.
All of which left Ben smiling from ear to ear and enjoying the post-match celebrations with his girlfriend Jodie and his family members who had made it to the Scottish capital.
"We know how hard he has worked to get to where he is now"
"Ben came to us for his Sixth Form a few years back, so it was amazing to see him do so well - even if it was against England! – on Saturday," Phil Reeves, the Leicester Grammar School Director of Rugby, said.
"I was watching the game on the television and was surprised to see him on the field so early, but to see him scoring such a great try gave me mixed emotions at first before then bringing a smile to my face and to the faces of many people who are involved with the school.
"Before Saturday my proudest moment with Ben was watching him at Twickenham as he played for England in a non-cap match with the Barbarians.
"That day he was on top form, so now to see him looking so confident and part of the Six Nations is just excellent. I hope he really kicks on from here now, I am sure he will. We are so proud.
"Those of us connected to the school know how hard he has worked to get to where he is now and his dedication and commitment are a great example to the pupils who are at Leicester Grammar now as regards to what you can achieve if you put your mind to it.
"When he was at the school Ben was also part of the Leicester Tigers set-up. As with all of our pupils who play sport at an elite level, we helped him balance his studies, his school rugby and his Tigers commitments, but he deserves most of the credit because it was him who was putting all of the hard work in.
"And, for an up-and-coming scrum-half to work with Harry Ellis, our Head of Rugby Coaching and a former England and British & Irish Lions 9, was just such a good match.
"They worked hard together and I know how pleased Harry has been to see Ben doing so well in the game."
Of course, it is not just Ben who has come through from LGS` to have a great career in rugby, the Thacker brothers - Harry and Charlie - have also done so along with Paolo Odogwu, George Worth and many others.
"Ben is a great role model"
As Mr Reeves mentions, Ben could not have had a better mentor at Leicester Grammar than Harry who earned 27 caps for England at scrum-half between 2004 and 2009 and played one Test for the Lions in South Africa 13 years ago.
"I am so pleased for Ben because I know the hard yards he put in when he was here with us in our Sixth Form, he worked so hard on and off the pitch and that has left him as a very rounded individual," Mr Ellis said.
"He started his career after school with Leicester Tigers, the local club that we have strong links with, and he now turns out for London Irish where he seems to be loving life.
"Over the last three or four years I have kept a close eye on his progress and I think he is a great role model to current Leicester Grammar pupils who are aiming to play sport at an elite level and those who have left in the last couple of years.
"Here at the school we have excellent facilities for sport and we try to create an environment that helps pupils grow in terms of talent, but also grow as people.
"With our rugby players and others who take part in sport, I try to offer them advice from my own career because it can be hard to decide what path to talk after school and you want to make sure you are on the right one.
"I am so focused on helping people achieve their full potential and I have knowledge from over the years which I can impart while it also means a lot to me here because I also attended Leicester Grammar back in the day.
"With Ben's career now very much on an upwards trajectory I look forward to watching him grow into an international number nine and perhaps help Scotland achieve special things."
"It was an incredible experience"
Ben is now in Wales with the Scotland squad preparing for Saturday's round two Six Nations match against the hosts in Cardiff on Saturday.
He will hope to make an impact off the bench again when called upon in cap number two and, looking back on his dream debut, he said: "It was an incredible experience, to be honest. I don't think words can do it justice, it was absolutely amazing. With the fans back in the stadium it was electric. It was unbelievable.
"In the first half when I was on - and then off a few minutes later having scored a try - I walked off and said to one of the lads, 'that was the best 10 minutes of my life'!
"Getting on like that was good as it took away the nerves and angst of maybe waiting until the last 20 minutes. Just to be thrown in at the deep end was a good thing as you just go on and do your job.
"The coaching staff and the playing group with Scotland have been brilliant with me since I set foot in camp. The lads have been amazing. The way that everyone has got around me and helped me learn everything and know my role has been fantastic. I've absolutely loved every second of it. It's been a dream come true."
"Wales is our main focus now. Last Saturday was brilliant but it doesn't mean anything if it's not backed up with a result this time around. Our aim now is to push on and try to get a win in the Principality Stadium."
"Being capped, t's means everything to me. My friends and family were over the moon last weekend and incredibly proud like myself. The warmth from the Scottish fans has been incredible and it's something that I appreciate. It meant so much to pull on that jersey, but also to get messages from supporters who want you to do well."
The whole of Scotland - and the Leicester Grammar School community! - will be cheering Ben on again this weekend.
By Gary Heatly, GH Media
Wales v Scotland is live on the BBC on Saturday with a 2.15pm kick-off