School Record Broken!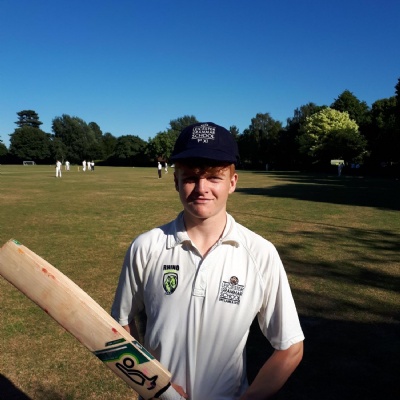 On Friday the 4th June - The 1st XI played against Ryde School from the Isle of Wight. They are a school that have a proud tradition of cricket and regularly tour areas of the UK to test themselves against new opponents. During trips week our U12 and U13 sports-people spent the week at Ryde School them playing cricket, hockey and tennis alongside a little sailing.
This is the 2nd year we have played them at 1st XI level and the match was marked by a superb performance. Year 10's Rohan Kelkar played very well scoring 51 but the performance of the day was a magnificent 193 no by Harry Pounds. To put that in context it beat the previous highest 1st XI score by 55 runs (138 no by William Hunt in 2013). There have only been 7 100's scored for the 1st XI in the schools history. He hit 23 fours and 4 sixes. Congratulations Harry!