More success for our Upper Sixth - 10 places offered at Oxford and Cambridge ​​​​​​​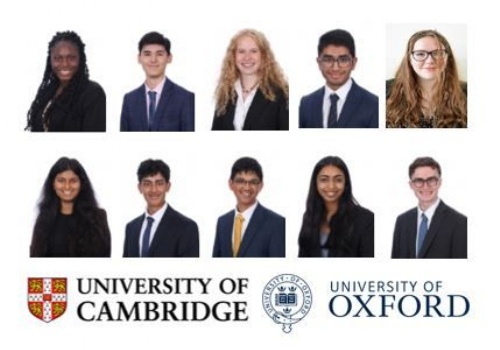 It's been a challenging few years for our current Upper Sixth (Year 13). Like all pupils their age they have lived through the disruption of Covid and the restrictions this has placed on the many activities they would normally enjoy.
But with Covid (almost) behind them, this year group has absolutely blossomed. Recent successes include Lucy being awarded U18 Fielder of the Year by Leicestershire Cricket Club; Ali, Aditya and Lucas winning the Digital Decarbonisation award at the Big Bang Fair; and Will heading for the History Association's Great Debate national finals at Windsor Castle.
To add to this success, we are delighted that a record ten pupils have been offered places at either Oxford or Cambridge this year. Offers have come for a range of degrees, including Biochemistry, Classics, Economics, Engineering, History, Languages, Law and Mathematics.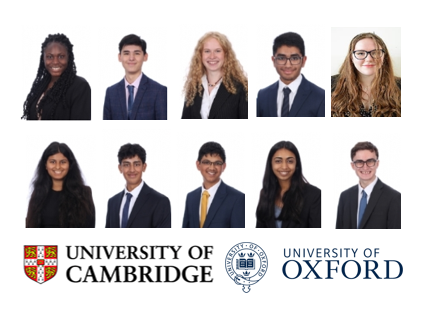 Matthew - History (Cambridge)
Ayotunde - Biochemistry (Oxford)
Milly - Classics (Cambridge)
Lucas - General Engineering (Cambridge)
Shashank - Economics (Cambridge)
Nishchal - General Engineering (Cambridge)
Sophie - French and Spanish (Cambridge)
Arshad - Maths (Cambridge)
Shruti - Law (Cambridge)
These offers come on top of those already received for a variety of other highly competitive courses at top universities. 104 of 117 applicants already hold at least one offer, and many of the remainder are awaiting decisions for medicine applications, which often come very late in the cycle.
We are proud of the achievements of every one of our pupils and look forward to supporting them as they strive to fulfil their potential in the coming months.