Outstanding A level results at Leicester Grammar School once again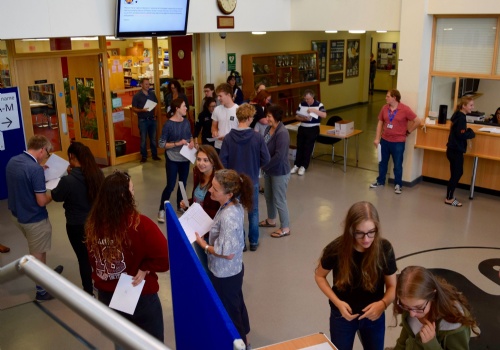 Congratulations to our 2018 leavers! We're delighted with the outstanding A level results achieved by the Upper Sixth students this summer.
78% of the grades achieved were at A*/B level with over 40% being A* or A grades. Six candidates achieved 4 A* grades and almost a quarter of the candidates gained all A* or A grades. The excellent results, in line with many previous years' results of a similarly very high level, should allow the overwhelming majority of the pupils to go on to take up their first choice university courses.
Headmaster James Rich paid tribute to the pupils and their teachers when he commented that: "It is wonderful to see this excellent cohort of pupils succeeding academically thanks to their own hard work and that of their teachers. I'm equally proud of them as young men and women equipped and ready to thrive at university and beyond, as a result of their decency, humility and work ethic. We will miss them here at school but we look forward to seeing them at Old Leicestrians' events in the future."