Cricket - U14 County Cup Final vs. Oakham School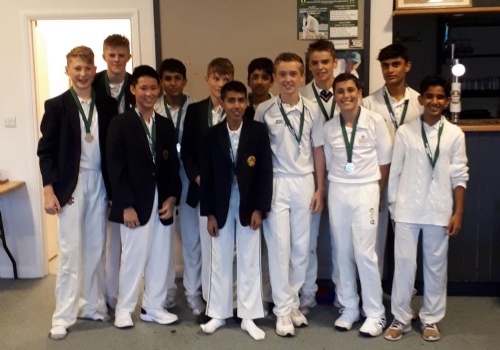 6/9/18
Oakham - 88- 1 LGS 87 - 3
Oakham won by 1 run
The U14 team travelled to Oakham CC to play Oakham School in the County Final of the U14 Cricket Cup. The winners of this final would become Leicestershire's representative in the National Cup for 2019.
Oakham won the toss and decided to bat. Unfortunately, not long into their innings rain arrived and after a long break it became necessary to play a 10 over, winner takes all, game.
Oakham ended their innings with a good score of 88 that would tax the LGS batting line up to the full. Paddy Horne bowled with real pace and fire, greatly impressing the Oakham coaching staff, Yaya Valli, in difficult conditions for an Off-spinner, bowled a nerveless spell and all the other bowlers- Rushil Joshi, Rory Pateman, Alex Laurenti and Miran Dayal (the wicket taker) performed well.
Miran and Jai Modhvalia strode out to open the innings and immediately attacked the bowling, making sure LGS never fell behind the asking rate. When Miran fell to a good Yorker, Captain Alex Laurenti and Patrick Horne played impressive little cameo's, with Patrick being run out in the penultimate over for 24. We reached the last ball of the game needing 2 to win with Jai on strike. He had played a super innings with delightful drives, mixed with intelligent running between the wickets. The last ball was driven with the power to easily run away for the 2 needed but unfortunately Oakham's cover fielder was in the way, collecting it and calmly throwing it to the bowler who ran Jai out for 30.
So, a magnificent game of cricket that could have been won by either side and was played in a tremendous spirit.
Good luck to Oakham for the National competition and well done to LGS. We look forward to continued development and further success for this talented group of young cricketers.
Squad:
Jaidev MODHVADIA
Miran DAYAL
Alex LAURENTI (Capt)
Finn CARNDUFF
Rushil JOSHI
Shiven ARORA
Patrick HORNE
Rory PATEMAN
Finlay STACEY
Yahya VALLI
Alfie WESLEY
Ethan TEO