Green Plan It Challenge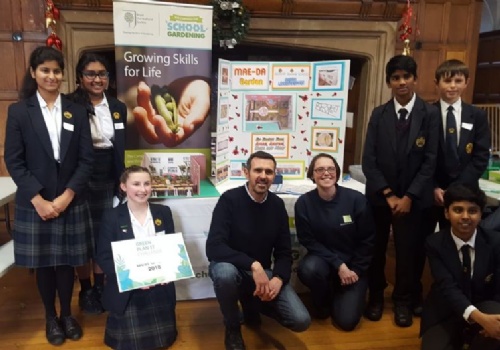 6 students from year 8 and 9 have been meeting after school one or two evenings every week this term in order to enter the Green Plan It Challenge run by the Royal Horticultural Society.
The were helped by Beth stone from Elizabeth Stone Gardens. We designed and built a model of a possible garden to fit into the space between C and D wing, using the idea of a World War 1 memorial garden as our theme. The students incorporated ideas from teachers and students in the school and also researched into local history in order to make the garden special to our locality. The judges were really impressed with what they had done and we were the overall winners fo the challenge. Our prize was presented to us by Adam Frost from gardener's world.
The students were:
Erica F 8E
Anupam C 8B
Milly K 9C
Ayaan A 9A
Dan S 9E
Dominic S 9B
Dr S L Ewers
Teacher of Biology