Badminton - County Finals for U16s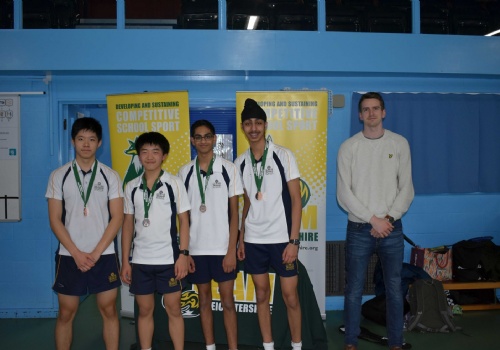 The U16 Boys played in the Leicestershire Schools County Badminton Finals on Weds 6 March 2019 at Babington Academy.
The team was Patrick Wang, Kyle Wang, Manraj Jaswal and Ayush Patel
An excellent evening's Badminton saw the U16 Boys finish in 3rd position, from the 10 teams who qualified at the County Finals. LGS won all of their 4 group matches to qualify for the Semi-Finals where they came up against a strong King Edward VII Coalville side who just managed to edge them out. They progressed to the 3rd/4th play-off v Crown Hills and won this to secure 3rd place.
Results
Group Stage
v Belvoir HS - Won 5-0 (75-37)
v Roundhill - Won 3-2 (62-49)
v Market Bosworth - Won 4-1 (71-59)
v Crown Hills CC - Won 3-2 (58-64)
Semi-Final
v King Edward VII, Coalville - Lost 2-3 (78-89)
3rd/4th Play-Off
v Crown Hills CC - Won 4-1 (105-84)
An excellent performance, enhanced by the good news that both our U18 Boys and Girls Teams have both qualified for their County Finals on Thursday 14 March 2019 at Babington Academy.
My congratulations to all concerned - you represented the school with great pride
CWH