Trust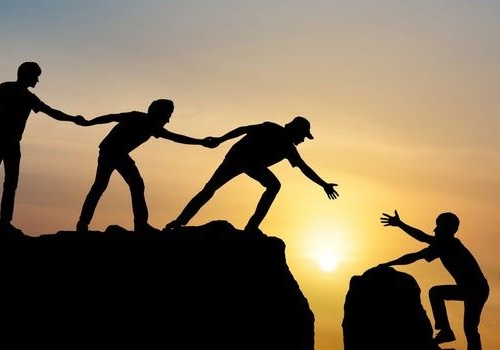 One of the values I mentioned last week, as chosen by pupils and staff, was 'trust', variously qualified by 'honesty, integrity, responsibility and self-discipline'.
I am sure we would agree as parents that 'trust' is a quality with which we would all want our children to grow up. It can be easily lost when someone tells a lie, bends the truth, proves unreliable or inconsistent. Without a doubt, we admire leaders who display integrity and humility, so that we can depend upon them when things get difficult and tough decisions have to be made; we know they will be making the decisions for the right reasons and without ulterior motives.
Such is the swirl of conflicting information currently that it is difficult to know what and whom to trust. We know that there are hugely taxing decisions to be made when it comes to preserving life and maintaining positive momentum towards a 'new normal'. Our only real choice is to trust and follow the guidance, in the hope that it is based on the best evidence, research and advice possible.
We are therefore following the guidance very closely as we continue to plan for 'wider opening' of our Trust's schools from 1 June. Please be reassured that the safety of pupils and staff is paramount and that the planning will be thoroughly risk-assessed for our own setting and necessarily detailed. You will have read in the media of various concerns: whilst the guidance for LGS Year 6 (Prep) is comprehensive and clear, it is currently very difficult to interpret and implement in any meaningful way for Years 10 and 12 (given the social distancing required and the variety of different groups within which pupils normally mix): "secondary schools, sixth form, and further education colleges to begin some face to face support with year 10 and 12 pupils, although we do not expect these pupils to return on a full-time basis at this stage". We enjoy challenging puzzles, and this one requires extra-special care and consideration if we are to improve and not diminish the current programme of remote learning.
Many of us (pupils and staff) can't wait to again experience the 'fun' of being with others in school, but I regret that will not happen this term (according to current guidance) for any pupils in Years 7, 8, 9, 11 and 13; hence the huge importance of sustaining a vibrant community remotely. We must proceed as guided, so please bear with us patiently and trust us as we plan; as soon as the detail of wider opening is finalised, it will wherever relevant be communicated to you. We must then hope that the Government's five key tests are met.
Best wishes for good health and further sunshine this weekend,
John Watson

Headmaster and Principal