Work hard, be kind, be inspired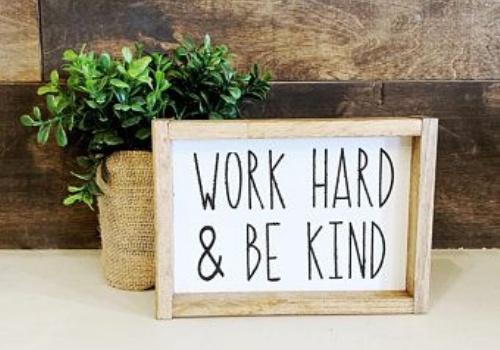 You may have heard of the Michaela Community School, a controversial free school opened in 2014 in a converted office block near Wembley stadium. Its founder, Katharine Birbalsingh, believes that military-style discipline and pupils that are 'drilled to thrill' are key to education, and refuses to accept the excuses of a system that 'keeps poor children poor'. The school's motto is simple: Work hard, be kind.
I quote from a Times article:
"Staff demand not only the pupils' acquiescence, but their attention…A child's eyeballs must be directed at the page, the board or the teacher…At the command 'SLANT!' every child sits straight in their chair, arms folded on the desk, eyes on the teacher. No discussions, no group work. It's intense……Each child is equipped with an identical clear ruler, which they use to track the text in the frequent class reading. Demerits are rife……When there is nothing else to do but learn, children really do."
The school was rated 'Outstanding' by Ofsted in 2017 and in 2019 celebrated its first GCSE results, which ranked amongst the best in the country for non-selective state schools. "I think it's hilarious to say we are the strictest school in Britain," laughs Birbalsingh. "It's a joyful and happy place. The children are so happy to be here."
I am not about to suggest that we adopt a draconian disciplinary philosophy at LGS (nor, fortunately, do we need to), but what aspects are relevant to our own, very different context? Well, children ultimately like order; they may initially be amused by the class clown, yet really they want to make progress – and no child should be allowed to disrupt others' learning. They work more effectively when focussed on clear and specific tasks, without distractions. They like to know where the boundaries lie, as well as the consequences of transgressing those boundaries. Knowledge is power, and there is sometimes no substitute for hard graft and rote learning; education is not just about skills.
So, we are right to have the highest expectations of what our children can achieve, encouraging them to set the highest standards for themselves, so that excellence is not something after which they have to strive but becomes a habit: "We are what we repeatedly do. Excellence, then, is not an act, but a habit." (Aristotle)
At the same time, we don't want simply compliant learners who sit in serried ranks and don't challenge us. Much of the best and most enjoyable learning occurs in discussion, in group work, in lively interaction between pupils – and in fun. This doesn't occur without engaging and authoritative teaching which encourages focus, attention and inspiration. Nor does it flourish without a mutual respect which values experience and wisdom, and which fosters good manners and consideration for others.
Yes: work hard, be kind, and be inspired.
Best wishes,

John Watson
Headmaster