Music
The Music Department is a fundamental part of school life. With a large proportion of students receiving tuition in school and more taking an active role in music groups throughout the year, we have earned a reputation as a centre of excellence with many musicians achieving success at county and national level. We endeavour to cater for the enthusiastic beginner as well as for those who intend to make music their career. We aim to provide performance opportunities at all levels and in all genres, including classical, jazz and traditional music.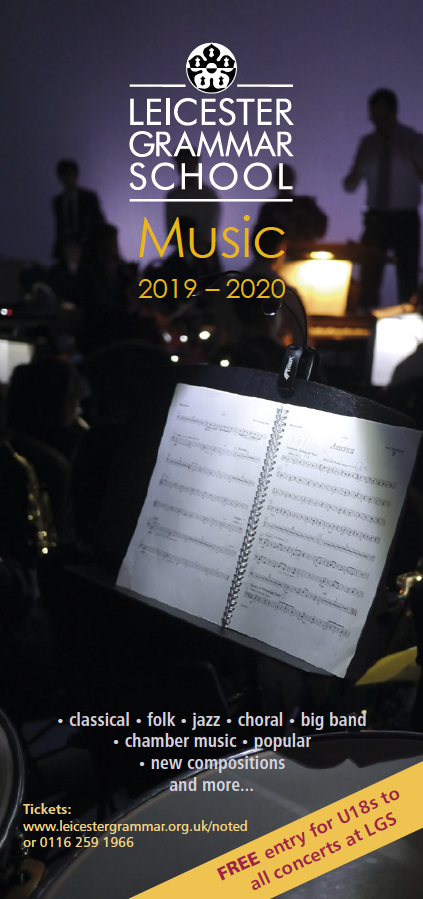 See our 2019-2020 Music programme here
Staff
Classroom Teaching Staff:
Mr. J.M. Barker, BMus MMus (Royal College of Music) PGCE MTeach (UCL IOE) MMus (Royal College of Music), Director of Music
(Saxophone & Piano)
Mrs. A.E. McPherson, MA (Oxon) LRSM PGCE, Deputy Director of Music
(Flute & Piano)
Miss. E. Graff-Baker, MA (Oxon), ARCM PCSE
(Violin, Piano & Composition)
Mrs. M.A. Bloomfield, Music Department Administrator
Instrumental Teaching Staff:
Mr A Ashwin, FRSM PGDip (RCM) BMus (Hons)
(Singing)
Mrs E Barker, BMus MMus
(Violin & Piano)
Mr D Cleary-McHarg, MISM
(Percussion)
Miss H Cresswell, BA (Hons) PGDip
(Flute)
Mrs R Curtis, BEd
(Oboe)
Mrs E Else BMus PGCE
(Piano & Viola)
Mrs A Gates, Mmus PGDip BMus (Hons) BSc (Hons) LTCL ALCM CertAPS
(Violin & Piano)
Mrs K Goss, BLib LTCL FTCL
(Bassoon)
Mr K Hall, GRSM LRAM LTCL
(Clarinet & Saxophone)
Mr C Jeans LRAM
(Brass)
Mrs A Mainard, ABSM (Performance) ABSM (Teaching) ARCM BA (Hons) MA
(Cello & Double Bass)
Mrs J Preston BMus AdvPGDipMusic (Prof Perf)
(Flute)
Miss G Print, BA (Hons)
(Violin & Viola)
Mr A Thomas, MMus
(Guitar)
Lower School
In all years, the curriculum includes the three main components of performing, composing and listening.
YEAR 6
Year 6 pupils have two periods each week. They study the elements of music (including notation), instruments of the orchestra, programme music, gamelan and singing.
YEAR 7
Year 7 pupils have two periods each week. For one of these, in groups of three or four, they are given tuition on the violin/viola, cello/double bass, woodwind, brass and percussion, each for three weeks. In late January/early February they are then assigned to one of these instruments, on which they have tuition for the rest of the academic year. In the other lesson, they study keyboard music, scales, chords, forms/structures, and African music.
YEAR 8
Year 8 pupils have two periods each week. They study the dominant musical traditions of Western classical and African-American music, including the Blues, Caribbean music, and Soul.
YEAR 9
Music becomes an option in Year 9, and pupils have two periods each week. One of its aims is to prepare for the IGCSE course which starts in Year 10. The main elements of music are revisited, and there are particular studies of 20th century classical music, pop music, music and media, and free composition.
GCSE
The Department offers the Cambridge International GCSE. This incorporates the usual three disciplines of performing, composing and listening/historical studies. Pupils who opt for this are expected to be conversant with the demands of Grade 5 theory before starting the course, and to be capable of performing at Grade 5 level by Year 11. The listening paper gives a good grounding in classical musical styles and requires an understanding of world music.
In the most recent exam session (June 2016), 50% of candidates gained A* grades.
A Level
The Department is currently in the final year of offering the OCR A2 specification.
From September 2016, students wishing to study Music in the Sixth Form follow the Cambridge International Pre-U syllabus. This requires a high level of historical, analytical, theoretical and practical work. There are studies in 16th century choral music, orchestral music from 1740-1900, harmony in the styles of Bach's chorale harmonisations and Classical string quartets, and composition. There is also a compulsory performance component. For 25% of the syllabus students can specialise in an area of their choosing, with performance, composition and a dissertations amongst the options.
Co-Curricular
About 30 ensembles rehearse each week, including two choirs, two orchestras, two concert bands, a big band and folk group, and there are numerous chamber ensembles. The First Orchestra is joined by the Choral Society (a mixture of pupils, parents, staff and local people) to perform a large choral work in St Nicholas Hall. There is a full programme of concerts given by pupils throughout the year, both at the school and in the wider community. Since the move to Great Glen in 2008 we have been asked increasingly to give concerts locally. Visiting artists enhance the provision by giving public concerts in the Recital Room and workshops/masterclasses to pupils. Many pupils are members of county ensembles, and pupils have been members of national groups such as the National Youth Orchestra, National Youth Chamber Orchestra, National Youth Jazz Orchestra, National Youth Brass Band, National Youth Wind Band and National Children's Orchestra.
Trips
Trips are arranged to concerts as appropriate, and visiting artists bring their music to the school. Every three years a week-long tour is arranged which involves, typically, 80-90 pupils. Members of the Symphonic Wind Band, String Orchestra and Choir are involved. The tour operates in the manner of a course, with rehearsals alternating with trips for the first few days, with concerts given at the end of the week. Recent trips have been to Cornwall, Scotland and Ireland.
Instrumental tuition is given by our strong team of resident and visiting teachers. Most lessons take place during curriculum time and rotate through the timetable, although some occur before morning school, during lunchtime and at the end of the school day. As far as possible, we attempt to make sure that the same subject is missed not more than once each half of term. If a pupil has lessons on more than one instrument in school, only one should be during curriculum time.
LGS Recital Room