Celebrating International Women's Day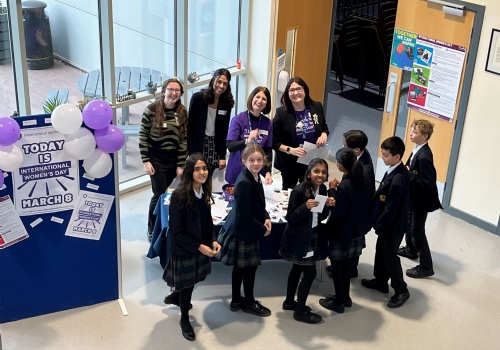 To celebrate International Women's Day and National Careers Week 2023, pupils were invited by our Careers Leader, Mrs Scott, to watch a webinar at lunchtime hearing from employers including Transport for London and the RAF, about their plans to increase female participation in their apprenticeship programmes.
Other activities included our Sikh pupils talking about the importance of making knowledge available to all in Sikhism. Miss Young, Deputy Head (Pastoral) and Mrs Dockree (Well-being Manager) along with member's of our FEMSOC were spreading the 2023 International Women's Day message of #EmbraceEquity with an A-Z of females in apprenticeships, as well as handing out lots of International Women's Day stickers and sweets!
We are proud of how well our pupils (male and female) engaged with the messages of this global event, celebrated annually on March 8 as a focal point in the women's rights movement, bringing attention to issues such as gender equality, reproductive rights, and violence and abuse against women.