2023 Arkwright Scholars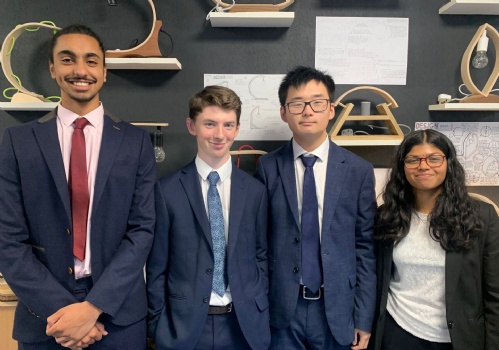 We are delighted that five of our Year 12 students have been awarded a prestigious Arkwright Scholarship. Congratulations to Taran, Will, Isaac and Prithika (as well as Kee Kiam - not photographed). An Arkwright Engineering Scholarship is the most esteemed scholarship of its type in the UK, designed to inspire students to pursue their dreams and change the world as an outstanding engineer of the future.
The Scholarships are awarded to hard-working 16-year-old students through a rigorous selection process, supporting them through their A level studies. Every Scholarship is sponsored by a commercial company, trade association, university, professional institution, armed service, government organisation, worshipful company, charitable trust or personal donor. This means that support is offered in various different ways, for example, valuable hands-on work experience, support for your curriculum project and a personal mentor who can help you with aspects of your studies and career planning.
Taran will be sponsored by the RAF, Will by Warwick University, Isaac by the Kirby Laing Foundation and Prithika by Haribo. They will benefit from financial support, mentoring and the opportunity to attend exclusive events.
For more information about Arkwright Scholarships, click here.