Design & Technology
Design and Technology at Leicester Grammar School is a lively and exciting subject, demanding enthusiasm and commitment from students from the start. Stimulation of interest and enthusiasm are key teaching outcomes and projects, which are mainly product based, are carefully designed to ensure this. Much of the workshop equipment has deliberately been acquired from industrial sources where this is suitable, which enhances their understanding of the real design and manufacturing world. From entering the school, students as young as nine are also expected to develop project management skills, which support their work elsewhere in the school.
In Years six through to nine we concentrate on introducing skills, materials and processes to the students through carefully structured projects.
At GCSE and A Level students are encouraged to model their designs on the computer and adopt a more professional finish to their design folders. They are expected to work closely with the mark schemes and guidance provided by AQA, ensuring they take personal responsibility for the development of their folder, product and overall result. Students at this level are encouraged to develop the specialist skills required to manufacture their product to a high standard. In doing so, they achieve a standard of work which reflects the best of their ability.
Design and Technology provides students with an opportunity to develop a broad set of skills; those who have followed it to A Level have gone on to University to study, Mechanical, Electrical and Electronic Engineering, Civil Engineering, Product and Industrial Design, Multimedia Design, Architecture, Computing, Computer Games Design, Art Foundation Courses, (leading to a degree in Art and Design) and Education.
In years six to eight Design and Technology is taught alongside Food Technology and Textile Technology.
Staff
Miss Katie Campbell, B.A (Hons QTS) Nottingham Trent University. Head of Design and Technology

Mrs Amanda Davies

Mr Nathan Grimadell

Miss S Moore

Mrs Elaine Nisbet

Mr Robert Parkin

Mrs Rebecca Pole
Year 6
The students have one double period a week and complete projects in Food Technology, Textiles and DT.
FT - Healthy eating - basic food preparation and practical cooking skills
Textiles – Cushions
DT – Wooden robots
Year 7
The students have one double period a week and complete three projects in DT. They also have lessons in Food Technology and Textiles. Current projects in DT are:
'Steady Hand Game' - Electronics project
'Vase project' - Graphics and laser cutter
Wacky Racer Toy car - Wood based project
Year 8
The students have one double period a week and rotate between Food, Textiles, CAD CAM and DT.
Each project lasts eight weeks.
DT - Balancing Toy - metal based project
CAD CAM - Fusion 3D Modelling and printing LEGO type figure
Textiles – Shorts
FT - Sensory Analysis, Food Preservation and Food Additives
Year 9
The students have one double period a week. Year 9 students complete 3 projects and are expected to work more to a GCSE standard when presenting their work.
DT – Bee and Bug House Manufacture Project – Students get the opportunity to demonstrate wood work manufacturing skills to solve the problem of declining bees by producing a bee and bug house.
DT – Art Deco Tea Light – Students go through a design and make activity to produce a tea light holder.
GCSE
The students have two double periods a week. In Year 10 the course consists of a range of projects building students' knowledge and application in readiness for their major project in June of Year 10.
Within one double lesson they will undertake project based work and the other will be learning subject specific theory for their exam.
Projects include:
Metal Clocks project

Lamination lighting project

Fusion 360 skills

Drawing course

Practical skills project
In Year 11 the course consists of:
Major Project - This takes two terms and the project is selected from a choice of set briefs provided by the exam board. Projects which have been made in the past are: Hammock, Tree Seat, Garden furniture, Giant Chess Set, Coffee Tables, Water Features, a Cot, Lights, Chairs, Toys, Jewellery Boxes, Jewellery, Bird tables, Bicycle stand etc. Each project must be made for their chosen client and must solve a problem.

Theory and revision lessons.
A Level
This is the start of a new two year A level course. During the Lower Sixth, the students have eight periods a week where they will complete a range of short design and make projects to develop their skills. Theory lessons will also be delivered weekly.
In the Upper 6th the students have nine periods a week and spend time preparing for the following:
THEORY EXAMS
Technical Principles: (2Hrs)
Designing and Making Principles: Product Analysis and Commercial Manufacture (1Hr 30)
Non-Exam Assessment (Major Project): This will be a single, substantial designing and making activity.
Products that have been made are: sound and lighting desks for the Drama Department, a stand for a cross in Leicester Cathedral, Design Technology work stations for a primary school, a cross for Barlestone C of E Primary School, a hat for Ascot, teaching aids for primary schools and special schools, gym equipment, a can crusher, a method of transporting picture frames in a car boot, bicycle trailers, trailers for transporting trails motorbikes, dinghies and windsurfing equipment, aids for disabled people including a seat for a dinghy, a gardening aid and a walking aid with built in table, a storage system for car hard tops, an adjustable easel for an artist, an Altar and Bishops Chair for St Nicholas Chapel, a wooden cross for the Junior School, storage for bicycles, and a surf board carrier for a bicycle.
Similar to GCSE, students are expected to find a client for their project and the final outcome must solve a problem. They are expected to produce an extensive portfolio of work demonstrating researching, designing, and evaluating, and a high quality product outcome.
Co-Curricular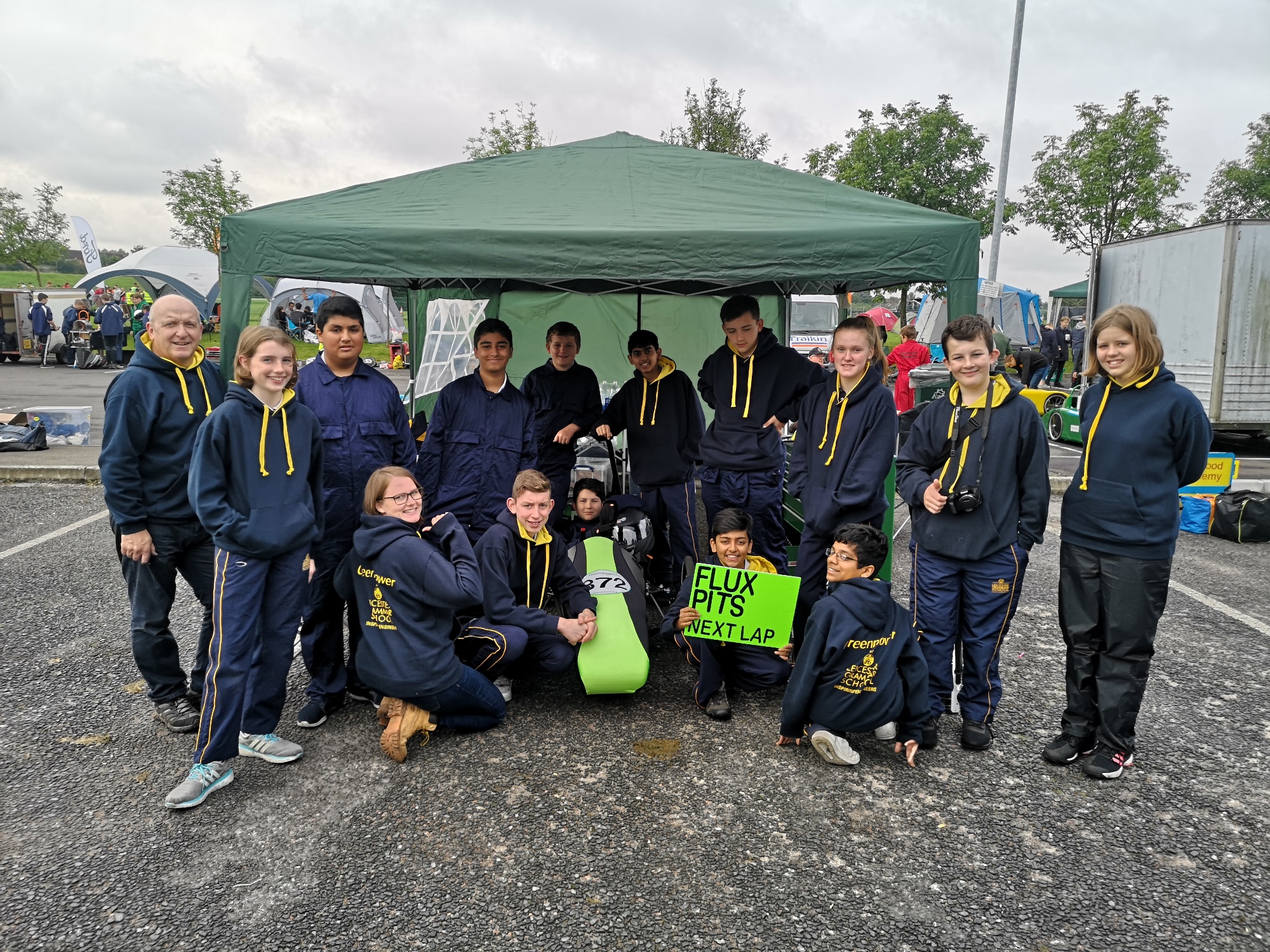 Greenpower:
The Greenpower Education Trust is a UK based charity with an outstanding track record in kick starting careers in engineering. They help to unlock potential and spark enthusiasm for Science, Technology, Engineering and Maths (STEM) through the excitement of motorsport. The aim of the project is for pupils to create an electric powered vehicle, which is to be raced against other teams around motor circuits in the UK. The competition is not based on speed, but on how many laps the vehicle can do during the race, whilst conserving battery life.
Our team is made up of Year 8 and 9 pupils who have built the kit vehicle which they have raced at Goodwood Motor Circuit (Chichester) and Aintree Motor course (Liverpool), Castle Combe and Lotus. Pupils are expected to work efficiently, like a normal race team, by organising fundraising, logistics during race day, and of course, the engineering of the car.
Arkwright Scholarship:
In Year 11 pupils may be entered for the Arkwright Scholarship which offers work experience in prestigious engineering companies.
Rotary Club Technology Tournament:
A days' problem solving activities for groups from Year 8–13. This also involves groups from other schools. This is the fifth year we have hosted this event, with many local schools. Last year, all three categories were won by the LGS teams!
Year 8 DT Club:
This year, we will be setting up a new Year 8 club giving pupils the opportunity to make outcomes that are physically larger and possibly more adventurous than what could be produced in lesson time. Watch this space!
Trips
Jaguar Landrover Factory Visit (Year 12) and BMW Oxford Mini Factory visit (Year 10).
Pupils visit the Jaguar Landrover factory to understand how a production line works in continuous production. This is a perfect opportunity for students to learn how the theory elements for the course are applied in a real life situation.
Greenpower:
We continue to attend two – three races per year. Check out the co-curricular tab to find out more.
DMU Art and Design Degree show:
Year 12 pupils get the opportunity to visit this degree show to check out the standard of work from local design courses. It gives them inspiration for their major projects and provides examples of how to present work effectively.
Hodges and Drakes Product designers and Pick Everard Architects:
Winners from the Design and Technology Technology Rotary Tournament are invited to visit these local firms to understand more about the careers involved in design.
Design Events
This event is held each year during exam week. The Junior School and the Prep Department spend two days in the Design Department working on a problem solving team activity.
Art, Design, Engineering and Technology Exhibition
This joint event between the Art and Design department, and the Design, Engineering and Technology department is held each year in May to showcase the high quality GCSE and A level work produced during the year.