History in the making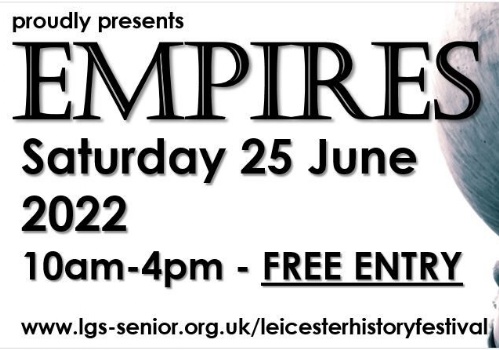 I hope you were able to enjoy some of the fabulous Jubilee celebrations last weekend, whether monarchist or republican!
We were treated to a very colourful historical perspective in Sunday's Pageant, with a remarkable and extraordinary journey through the seven decades of the Queen's reign. She has witnessed huge change yet represents a reassuring stability and continuity in the lives of so many of her subjects. The various events over the four days were also conspicuous for their celebration of the diversity of our nation.
We have lots to look forward to at LGS after the conclusion of exams, including the second Leicester History Festival and our second Heritage Day, organised by our Diversity and Inclusion Group.
The latter will occur in school on Wednesday 22 June, as we celebrate the rich diversity of our school and pledge our commitment to building an inclusive community and world where racism is not tolerated. The theme will be #WhoDoYouThinkYouAre?, and we will encourage pupils and staff to tell us their stories; more information will follow shortly. The History Festival is open to the public on Saturday 25 June, between 10am and 4pm – and you are warmly invited to attend.
It promises to be a truly fascinating day, with speakers and activities for all ages, so I am sure that you, family and friends will not be disappointed, at whatever stage you arrive. I am grateful to Mr Picknell, Head of History, for the following summary:
"The day is built around two central concepts: the concept of global empires but also new voices in History, which is why we have presentations on identity from crime novelist Abir Mukherjee, the National Caribbean Heritage Museum, BBC R4 broadcaster Jeffrey Boakye on Black British History and presentations and exhibitions marking the 50th Anniversary of the arrival of Ugandan Asians in Leicester."
For our younger visitors, there will also be plenty to amuse, occupy and educate them, as reflected in the attached poster. You can also find out more by clicking on this link, which will take you to a dedicated page of our website. Here you can also register your attendance in advance, which will help us with catering. Entry is free, although a programme will be sold with a suggested donation to support the work of UNICEF in the Ukraine and Afghanistan.
As I mention the Ukraine, we are very pleased to be welcoming Sasha and Alexis from Kharkiv as our guests from Monday for the remainder of this term; they are living currently with an LGS family.
Let's hope that our children will learn the lessons of history more carefully and selflessly than some of their forbears.
"Those who cannot remember the past are condemned to repeat it." – George Santayana, The Life of Reason, 1905.
Best wishes,

John Watson
Headmaster