Physical Education
'The department are committed to providing pupils with worthwhile and educative experiences in as many activities as possible in the hope that they will pursue any interests through participation outside school and into later life'.
'Opportunities for the academic study of Physical Education and Sport are seen as an important method of increasing pupils awareness of the importance of exercise and to stimulate the individuals interest in the study of sporting activity'.
Staff
Mr James McCann, M.A. (Bath) Director of Sport
Mrs Charlotte Calland
Miss Laura Cox Head of PE and Games
Mr Nicholas Ebbesen Sports Graduate
Mr Harry Ellis
Mr Luke Godsmark
Miss Caitlin Jeffries
Mrs Nikki Laybourne
Mr Laurie Potter
Miss Maisie Reagan Teacher Trainee
Miss Amy Rothwell
Mr Matt Stubbs Head of Academic PE
Mr Troy Thacker
Year 6
The curriculum at Year 6 introduces the basic core elements of Physical education. The aim of the programme of study is to develop movement patterns, co-ordination and life skills. An holistic approach to teaching where every child's learning is nurtured to help them to participate to the best of their ability. All children cover the same activities which include; Functional Movement Skills, Dance, Gymnastics, Swimming and Athletics.
Year 7
The curriculum at Year 7 is wide and varied in order to introduce and develop different types of movement patterns that will aid coordination in the execution of more complex skills in later years. Swimming and Athletics play an important role within the program of study as we believe these are important life skills. Classes are taught in small mixed sex groups where individual attention can aid pupils learning. Activities taught include; Gymnastics, Functional Movement Skills, Swimming, Athletics and Dance.
Year 8
The curriculum in Year 8 looks to build upon what has been taught in Year 7, with all of the same activities being taught. The programme of study revisits the same activities, however, more advanced skills are introduced thereby helping to develop children's motor skills and co-ordination. Children continue to be taught in small mixed sex groups where there is a stronger emphasis placed on encouraging them to enjoy and understand the benefits of participation in physical activity.
Year 9
The curriculum in Year 9 has a more developed programme of work. Not only is there a greater variety of activities taught but the style and manner is adapted to include a greater emphasis on knowledge and understanding of the activity. Pupils will be challenged with the opportunity to undertake more complex skills in each activity, though differentiation is also an important aspect of lessons with pupils being encourage to achieve their best. Children continue to be taught in mixed sex groups though at this stage maybe in slightly larger groups. Activities taught include; Trampolining, Strength and Conditioning, Swimming, Athletics and Badminton.
IGCSE Physical Education
The syllabus provides candidates with an opportunity to study both the practical and theoretical aspects of physical education. It is designed to foster enjoyment in physical activity by providing students with an opportunity to take part in a range of physical activities. Students undertaking the IGCSE Physical Education course should be competing regularly for the school teams and be competent in a range of sports
As part of the course the students will follow a programme of Swimming, Personal Survival, Cross Country and Camp Craft and, an ability to be successful in these sports is a key determinant to success in this subject.
By following the course students will be able to develop an understanding of effective and safe physical performance and to appreciate the necessity for sound understanding of the principles, practices and training that underpin improved performance, better health and well-being. 
The syllabus is broken down into the following components:-
Anatomy and physiology
Health, fitness and training
Skill acquisition and psychology
Social, cultural and ethical influences
The examination assesses candidate's knowledge and understanding in relation to the syllabus content. Candidates are required to demonstrate skills of description, interpretation and evaluation. The question paper has a weighting of 50% of the total mark.
The Coursework component requires candidates to offer a minimum of four practical activities from two of seven categories. Each activity is marked out of 25 and it is worth 50% of the final mark. The practical activity categories are:
GAMES 
GYMNASTIC ACTIVITIES
DANCE (MAX 2 DANCE STYLES) 
ATHLETIC ACTIVITIES 
OUTDOOR AND ADVENTUROUS ACTIVITIES
SWIMMING 
COMBAT ACTIVITIES 
A Level
Academic Physical Education A-Level - OCR H555
The OCR A level Physical Education syllabus is both practical and theoretical in content. It will allow learners to study Physical Education in an academic setting, enabling them to critically analyse and evaluate their physical performance and apply their experience of practical activity in developing their knowledge and understanding of the subject.
This course will build upon the IGCSE Physical Education course taught at Leicester Grammar School. Students undertaking the A level Physical Education course must have not only a passion for the subject but must also be playing and competing regularly to a high standard in teams both inside, and outside of school. The most successful A Level student, not only participates regularly in their chosen sport, but may also coach, volunteer and participate in other sporting co-curricular activities. This is an expectation for our students at Leicester Grammar School.
It is essential that prior to opting for A level Physical Education potential students should, via consultation with the PE Department, ensure that their chosen sport is approved for practical assessment by the awarding body.
The prior completion of (I)GCSE Physical Education is not a prerequisite of this course; however, the most successful A level Physical Education students will not only have a Grade ⑦ or higher at (I)GCSE in Biology but also high grades in all Sciences. Where (I)GCSE Physical Education has been taken, we regard a good score in the theory element [⑦ or higher] as particularly important for prospective A level students.
Students learn about physiological and psychological factors affecting performance, alongside socio-cultural issues in physical activity and sport. Their practical performance will be assessed in performing ONE activity OR in coaching ONE activity.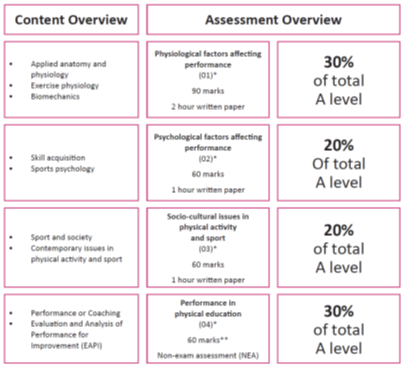 This course will prepare learners for the further study of PE or sports science courses as well as other related subject areas such as psychology, sociology and biology. Learners will also develop the transferable skills that are in demand by further education, Higher Education and employers in all sectors of industry.
Co-Curricular
Over fifty teams represent the school in the six major sports of Netball, Rugby Football, Hockey, Cricket, Athletics and Tennis. In 2019 there were 75 pupils who were either County Champions or achieved County Representation in their chosen sports with 7 students extending this representation to Regional level and 4 achieving International honours. A diverse range of team and individual activities, including Swimming, Badminton, Cross Country, Trampolining, Gymnastics and Table Tennis forms part of the co-curricular programme. Fixtures in the schools major games take place on Saturdays, during games afternoons or after school. The Sport programme at LGS and LGJS has now expanded to the extent where in 2018-19 we fielded a total of 188 teams across 14 sports with a total of 826 fixtures. School teams from all age groups are regular winners of County and Regional level competitions. Students of outstanding sporting ability graduate to centres of excellence and academies of sport, both locally and nationally and onto careers in professional sport.
Trips and Tours
Sporting tours are undertaken to a variety of destinations. Rugby, Hockey and Netball have toured to both the Southern and Northern Hemisphere on a number of occasions since 1991. In Summer 2014, the 1st XI Cricket team visited Barbados and the 1st XI Hockey and 1st VII Netball toured Malaysia and Singapore. The 1st and 2nd XV Rugby squad travelled to Italy for pre-season training in August 2014 and pre-season training trips are also run to venues in the UK each year for both Hockey and Netball. In 2017, the 1st XV Rugby and 1st XI Cricket teams undertook our first tour to Sri Lanka and the 1st XI Hockey and 1st VII Netball again toured Malaysia and Singapore. The next major overseas tours are scheduled for Summer 2023 when the 1st XV Rugby, 1st XI Hockey and 1st VII Netball teams will tour to a major overseas destination. A regular touring destination is the Isle of Wight; our U13 Cricket, Tennis and Hockey teams having visited the island in both summers of 2018 and 2019.
Other
The school places a very strong emphasis on the benefits of sport and physical education. All pupils from Year 6 to 11 receive a double period of physical education and an afternoon of games each week. Students continue their participation in sport into the Sixth Form either by playing in senior representative teams in one of the schools major games or by opting for a more general recreational games programme. Physical Education is the part of the curriculum than can contribute most to the physical experience of pupils. Its content includes opportunities to increase skilful body management and participation in activities that range from games to dance, swimming and outdoor pursuits. The school has very close relationships with Leicester Tigers Rugby and Leicester Ladies and Mens Hockey, with both current and past pupils representing these clubs at all levels. We are particularly proud of our links with the local community and we were accepted as a Team Training Base for both the 2012 London Olympics and the Rugby World Cup 2015. The Canadian national side based themselves at our site for the duration of the 2015 World Cup, allowing all of our pupils the opportunity to observe and learn from world class international performers. The Indian and West Indian Women's Cricket Teams played a warm-up game prior to the Cricket World Cup 2017 on our 1st XI ground and amongst others, we have hosted the South Africa Springboks, New Zealand Maori's, RC Toulon and the Barbarians FC for pre-match training.